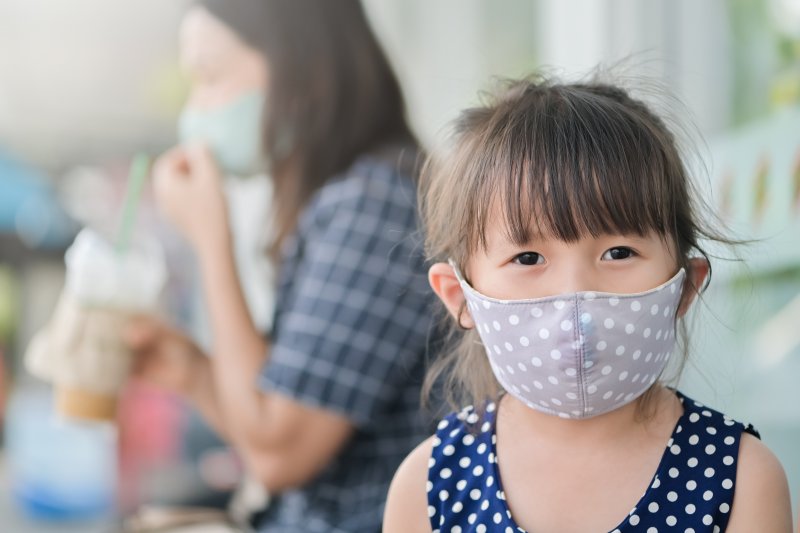 COVID-19 has changed the way people work, go to school, and even visit the dentist's office. With both adults and children having to wear face masks anytime they are out in public, these additional accessories are becoming hot ticket items anywhere you go. Having trouble finding one that will fit your child? A local pediatric dentist shares how making a face mask for your little one at home can ensure their health and safety the next time they come in for a dental checkup.
Why Face Masks are Important?
COVID-19 is a highly contagious virus that can cause respiratory illness in both children and adults. According to the Centers for Disease Control and Prevention (CDC), it is believed that it spreads easily through close contact with an infected individual. To avoid the potential of exposure, not only are people encouraged to practice social distancing by remaining at least 6-feet apart from others while in public, but face masks can also reduce transmission.
Because the risk for exposure is higher in public places, many general and pediatric dental offices are taking added precautions to keep patients and staff safe from COVID-19. By wearing a multi-layered face mask, it can block between 50-70% of fine particles in the air. In combination with regular handwashing and social distancing, you and your child can be better protected while waiting for their dental checkup and cleaning appointment.
The Different Types of Face Masks
When you and your child arrive for their regular appointment, you can expect to see dental staff wearing appropriate personal protective equipment (PPE). Along with a protective lab gown, eyewear, face shield, and gloves, they will also likely be wearing an N95 respirator mask and/or surgical mask.
For non-healthcare workers, it is advised that multi-layered masks be worn to safeguard against COVID-19. While you are certainly welcome to buy one at your local drug store, it may be difficult to find one that will properly fit your child's face. This is why making your own at home can be beneficial. But how can you do it correctly so that your little one is safe when going out in public?
How to Make a Face Mask for Your Child
If you have a sewing machine, there are many unique patterns you can follow to create a mask that will fit your child perfectly. With an endless array of fabrics to choose from, they can pick out which design they like most, which will only help to encourage them to wear it correctly when out in public. But if you don't have a sewing machine, there are still effective ways to make a face mask. Just follow these steps:
Measure your child's face and cut out a piece of fabric that aligns with your measurements.
Fold the cloth in half before folding the top third of the fabric down and the bottom third up. This will create a long rectangle.
Using two elastic hair ties or rubber bands, slide the fabric through each and fold the sides of the material toward the middle of the mask.
Tucking the ends together, you will hook the elastic ties or rubber bands over your child's ears and adjust so it fits snugly against their face but allows for adequate breathing.
You don't have to be a sewing master to create a simple and easy-to-use mask for your child. Before their next visit, make sure they are equipped with the right face protection and discuss with dental staff what other steps you can take to ensure the health and safety of your child when arriving for an appointment.
About the Author
Dr. Homer Sedighi is a board-certified pediatric dentist in St. Louis who completed his dental doctorate at the Washington University School of Dental Medicine. After finishing a two-year residency in pediatric dentistry at the University of Rochester, he eventually opened his own practice and now thoroughly enjoys working with young patients to achieve healthier, happier smiles. Among his fellow peers, Dr. Sedighi is taking additional precautions to keep all patients and their families safe from COVID-19. By requiring face masks, little ones can better protect themselves from potential exposure. If your child needs a dental checkup and cleaning, contact us at (636) 777-7777 to find out what steps you can take to ensure the safety of you and your child when arriving for an appointment.